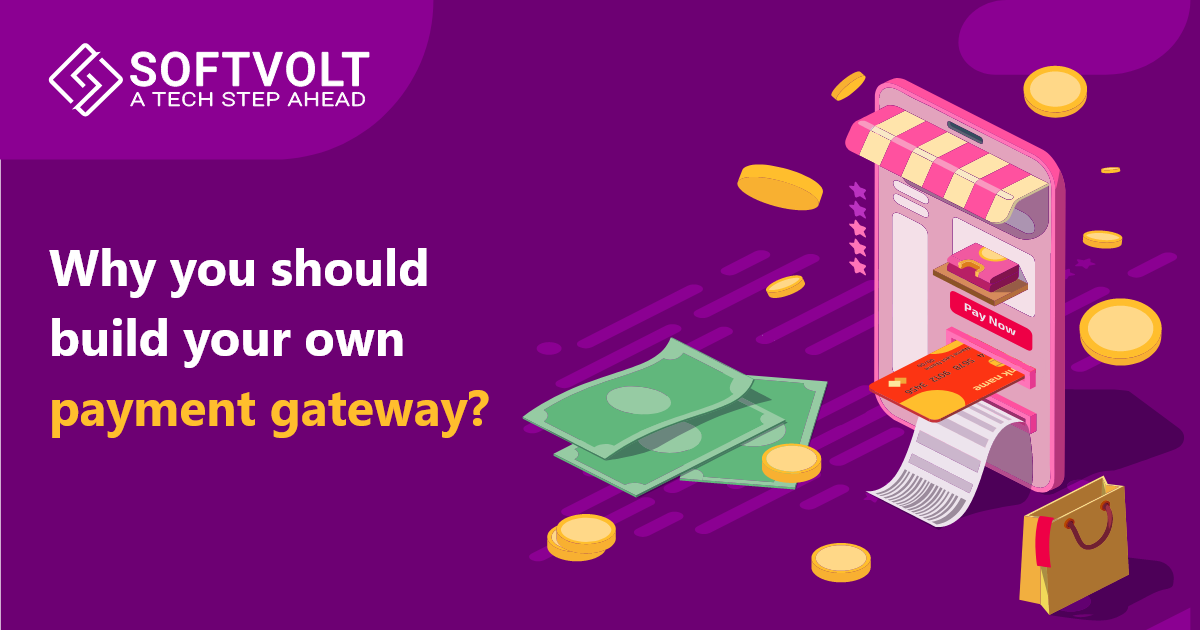 Why should you build your own payment gateway?
Digital platforms have been the hotspots for e-commerce and countless payment transactions. Online marketplace giants like Amazon and Paytm represent themselves as the heavy hitters in this industry. But when it comes to analysing facts and figures, they compose only a fraction of the platform economy. 
At present online commercial platforms offer goods, services, training, jobs, business and whatnot. Regardless of which platform you use, there will be a point when you need to pay for what you have obtained. This is precisely the point when the online commercial platforms would require the integration of Payment Service Providers and Payment Gateways. Their primary job is to detect any fraudulent transactions and validate purchase agreements by debiting your account and moving your money in the virtual sphere.
Payment Gateway
In simple words, Payment Gateway can be defined as a kind of software mostly used by online service providers whereby they can authorize and conduct digital payments. Be it an e-commerce platform, marketplaces or web-based service platforms, almost all online purchases require a payment gateway.
Payment gateways can be considered as the digital equivalent to a physical merchant at any point of sale. It acts as a bridge between the consumer and the merchant. A payment gateway works in two ways whereby it passes the payment data to both the consumer and the merchant. Through this, both the parties are informed about the payment's success or failure.
Payment Gateway: The Backbone of Online Platforms
A large number of payment service providers which deal with single-merchant online stores struggle with the challenges imposed on them by the platform economy. Digital marketplace giants like Amazon have a wider scope than single e-commerce portfolios as they not only deal with multiple customers across the world but also have to deal with multiple merchants. Therefore payment solutions play a very crucial role in maintaining the relationship between the buyer and the marketplace. They also have the potential to impact the relationship between supplier and marketplace.
The regulatory requirement for giants' payment gateway differs from the isolated online stores. Choosing the right payment service provider for your distinct business requires a lot of foresightedness. You need to evaluate various possibilities and factors like user experience, cost, security and compliance.
In case you don't find an exact fit, you need not settle for anything low instead create your own payment gateway. A customised payment gateway gives you the opportunity to integrate more than one payment service provider along with the freedom to avoid vendor lock-in.
Let us explore this option in detail and evaluate factors where at the end, you will find whether you need to build or buy your payment gateway.
Pros of building a payment gateway:
• No Vendor Lock-In Period
Your own payment gateway provides you with the advantage of being independent of other companies. In case you are using a payment gateway of an external company, you are limited by that companies' policies, terms of use which might change over time and add to your disadvantage. You can avoid vendor lock-in where the external companies don't allow you to switch your payment gateway and reduce your cost.
• Customized and Tailored Feature
Digital platforms are ever-evolving and require constant innovation, smart functionalities which separate them from the others. In case your business model or idea is unique, the already functioning payment gateways might not fit exactly or support your business model. In contrast, a custom payment gateway can solve this problem.
• Sound User Experience
The crucial part of any business is the payment flow; if your customers find your payment gateway inconvenient, obscure and not trustworthy, they are likely to bounce back. A customised payment gateway does not redirect your customers to any third party portal offering a seamless experience and reducing friction.
• Data Security
Customised payment gateway runs on your own infrastructure, thereby empowering you to analyze your customer data along with historical payment data through which you can offer products and services as per their usage. This way, you can learn about your marketplace in a better way.
• Cost Saver in Long-Term
When you invest in the development cost of your payment gateway, you are securing a long term growth for your business. Third-party gateways come up with the added cost of sign-up fees, per transaction charge which keeps on increasing by time. Lastly, you will discover that you are spending a major portion of your profit for payment gateways.
• Host your own Payment Gateway
When you build a payment gateway for your own business, you can also rent or sell it out to other companies who need such solutions with the same feature set. Thus, it can earn you extra income while you can also run it for your subsidiaries.
Cons of building a payment gateway:
• Development and maintenance cost
Employing a development team for a small business can be quite tricky as they are already struggling with the maintenance cost. To reduce these expenses, it is feasible that they use third-party payment gateways.
• Time required for development
As we know, time is money; building a payment gateway of your own will require a longer time interval. Besides, the certification process, according to government regulations, is very time-consuming. Opting a third party payment gateway will be useful.
• Responsibility, Functionality and Compliance
As the owner of the payment gateway, all the responsibility, functionality and compliance relies on you. This requires comprehensive testing, constant maintenance and bug fixing. You will also stand liable for compliance and data security which requires additional know-how.
Despite the challenges posed by the development of the payment gateways, you should not reject it outright. It would be best if you considered the factors like:
• Data processing and historical payment data
• Multi-party Transactions
• Multi-currency support
• User experience
• Merchant experience
• Fraud and risk prevention
• Scalability and compatibility
• Costs
Before you make any decision of buying or building your own payment gateway.
If given a choice, what would you choose?